Description
Nanographic Printing® Press
Background
Benny Landa, known as the father of digital offset color printing, founded Indigo in 1977 and developed the world's first digital printing press. Indigo became the market leader of this new industry and in 2002 was acquired by Hewlett Packard. Landa then immersed himself in nanotechnology research which led to the development of Landa NanoInk® colorants – spawning a new category of digital printing – Nanography. I2D had the privilege to design a new line of Landa Nanographic Printing® Presses that was unveiled in May 2012 at drupa (the printing world's largest and most important exhibition) and was widely regarded as the star of the show.
The challenge
When I2D started working on the industrial design of the Landa Nanographic Printing® Presses, we set out on a journey to help translate Landa's revolutionary vision into a groundbreaking design.
The goal was to redefine the meaning and identity of commercial printing presses and enhance the entire printing experience.
Solution
It was a rare opportunity to help design a complete line of products from the ground up and work with a client to create a design that seamlessly integrates design, UI, engineering and identity. The design strived for novelty and innovation in every single aspect of the product. An unprecedented integrated "cockpit" was developed to provide a comprehensive user centered environment. Using the Landa Touchscreen, complex work plans are clearly visualized and offer full control even from afar.
The Landa Nanographic Printing® Press has truly transformed the printing experience. It has made printing simpler, user-friendly and even somewhat magical.
Design
The design strived for novelty and innovation in every single aspect of the product. I2D used glass for the enclosure to achieve a refined quality and differentiate the Landa press from conventional systems which are characterized by a though metal industrial look. The glass allowed for seamless integration of the UI into the design, is easy to clean and long-lasting. The design language includes simple rounded surfaces and colored visual blocks to break the large monolithic shape. The dominant blue volume frames the cockpit and the distinctive user interface, enhancing visual clarity and integrates the new cockpit with the traditional press.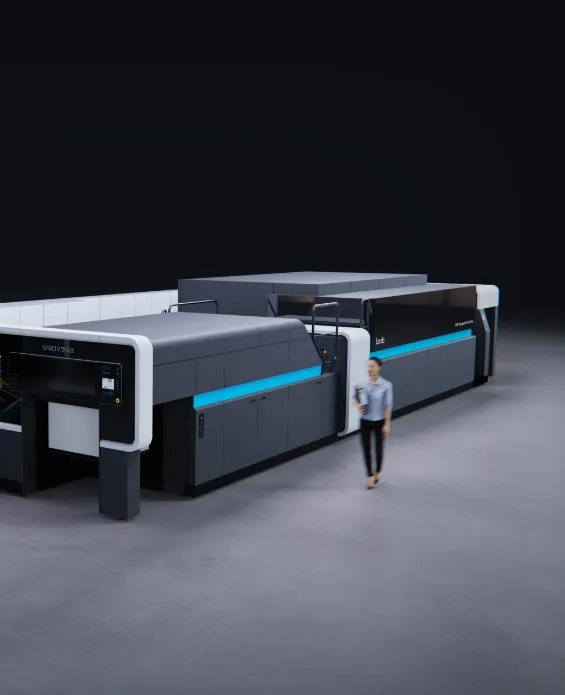 Outcome
Landa Nanographic Printing® presses combine the performance of offset with the versatility of digital printing for mainstream commercial markets. The product received the RedDot and the Chicago Athenaeum Good Design award and the cockpit with its advanced user centered approach has become a benchmark for the industry.